Announcing GOOD MEDS: My NEW Weekly Online Meditation Group
February 18, 2019 • CLICK
HERE
TO GET NEW POSTS FIRST
Do you find yourself slipping into self-doubt and angst even though you know everything you should be doing? When that happens to me I know I need to be guided and held, and I get my butt to a class.
As great as my daily solo practices are – kundalini, meditation, yoga – there's no substitute for the energy of a group and the support of a true container. We're not meant to do everything alone.
That's why I'm starting a weekly online meditation group, GOOD MEDS. Keep reading to learn why tf I'm doing this and how it might support you. 🙂
Already know you want to join me? Just curious to see how this will unfold?
Sign up here to get updates, or click the pretty pic below.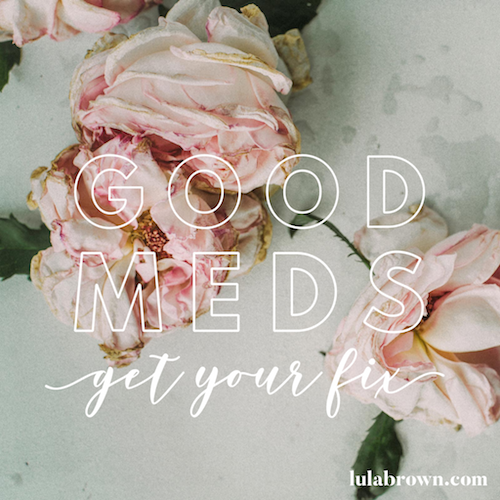 These gentle, guided healing sessions will help us turn anxiety and fear into peace and momentum.
Gatherings will be on Sundays at 12 noon ET, 30 minutes long, starting February 24th.
It's free. <3
We'll meet for 4 sessions and then see how it's feeling from there.
WHY AM I DOING THIS?
For over 5 years I've guided my health coaching clients in meditation at almost every session, and it's one of my favorite parts of what I do.
Getting still and truly pressing pause is one of the MOST important keys to connecting to your intuitive food voice and shedding chronic symptoms.
For over a year I've been hearing a VERY clear, very LOUD call to launch Good Meds. The name and message came to me instantly and then kept coming back. It wouldn't go away. So here we are.
CLIENT RESULTS
A recent client got complete clarity on her business after a 20-minute meditation, others have had big emotional releases during sessions (crying, etc), physical pain has instantly shifted, and many women have told me they feel calmer, clearer, and happier than ever.
If you want to feel more peace in your body and mind and get accountability to start or deepen your meditation practice, I would LOVE for you to join me.
Click here to sign up for Good Meds.
GETTING PAST MY OWN FEAR
I had to get over a lot of my own fear and self-doubt to launch this.
Thoughts like…
– I don't have traditional meditation training
– I'm not a "spiritual teacher" (yes I am, whether I like it or not)
– What if no one shows up :: shrug, I would do it anyway ::
I used meditation to shift my anxiety around this, and now I want to share this practice with you after reserving it for private clients for so many years.
Will I see you Sunday? Just comment below if you have any questions! XO
Much love,
Lula