The Only Two Foods You Need To Meal Prep
September 24, 2018 • CLICK
HERE
TO GET NEW POSTS FIRST
I LOVE being able to make a delicious, nourishing meal in 15-20 minutes. 
As a creative I often need quick energy and focus so I can stay in my flow.
Did you know it usually takes 20 minutes to refocus after taking a break from work?
Plus, I really, really dislike (hate is a strong word) spending an hour or more washing dishes every Sunday.
Love cooking though!
Although the idea of meal prep is awesome and it's GREAT if you can prep 5-7 items every week, what if you don't have time or simply don't want to? That's ok too.
The two game-changing foods I've been meal prepping down here in Costa Rica are…
Starches take the longest to cook.
You can always sear a piece of fish, chicken, tofu, tempeh, or steak in just a few minutes, and you can sauté veggies super quick, or throw together a salad.
And no, it's not a good idea to skip carbs altogether.
They stabilize your blood sugar, help you maintain your energy so you don't crash, and are especially crucial for female hormonal balance, which affects everything from your period to your weight.
Root vegetables and grains almost always need at least 10-20 minutes to cook, making them the key item to meal prep. If you parboil some sweet potatoes (or regular potatoes, or a mix of the two) and cook some quinoa or another delicious grain at the beginning of the week, you can cut your cooking time in half.
Here's how I prep these items…
---
SWEET POTATOES
Fill a pot with enough water to cover the sweet potatoes. Sprinkle in a big pinch of pink Himalayan salt. Bring the water to a boil.
In the meantime, wash your sweet potatoes and chop them into 1/2 inch cubes. Try to cut them in equal pieces so they cook evenly, but don't obsess over it. This method is pretty foolproof.
Once your water has come to a boil, drop your sweet potatoes in slowly and give them a quick stir.
Set your timer for 10 minutes. If your cubes are on the bigger side (closer to a cubic inch), set it for 15 minutes.
Strain your sweet potatoes and let 'em cool a little. Store them in a glass container in the refrigerator for up to 5 days.
---
QUINOA
Measure out 1-2 cups of quinoa and pour into a fine mesh strainer. Rinse the quinoa thoroughly under water to remove any residue or bitter flavor.
Transfer quinoa to a pot and add in double the amount of water. So 2 cups of water for 1 cup of quinoa, or 4 cups of water for 2 cups of quinoa. Add a big pinch of salt. Stir.
Bring the pot up to a boil. Once it boils, turn the heat down as low as possible, cover with a lid, and set a timer for 15 min. If all liquid isn't absorbed after 15 minutes, let it cook for another 5 min, covered on lowest setting.
Take the top off and fluff your quinoa with a spoon. Let it cool then store it in a glass container in the fridge for up to 7 days.
These have been my three favorite ways to use these prepped items in fresh, delicious meals…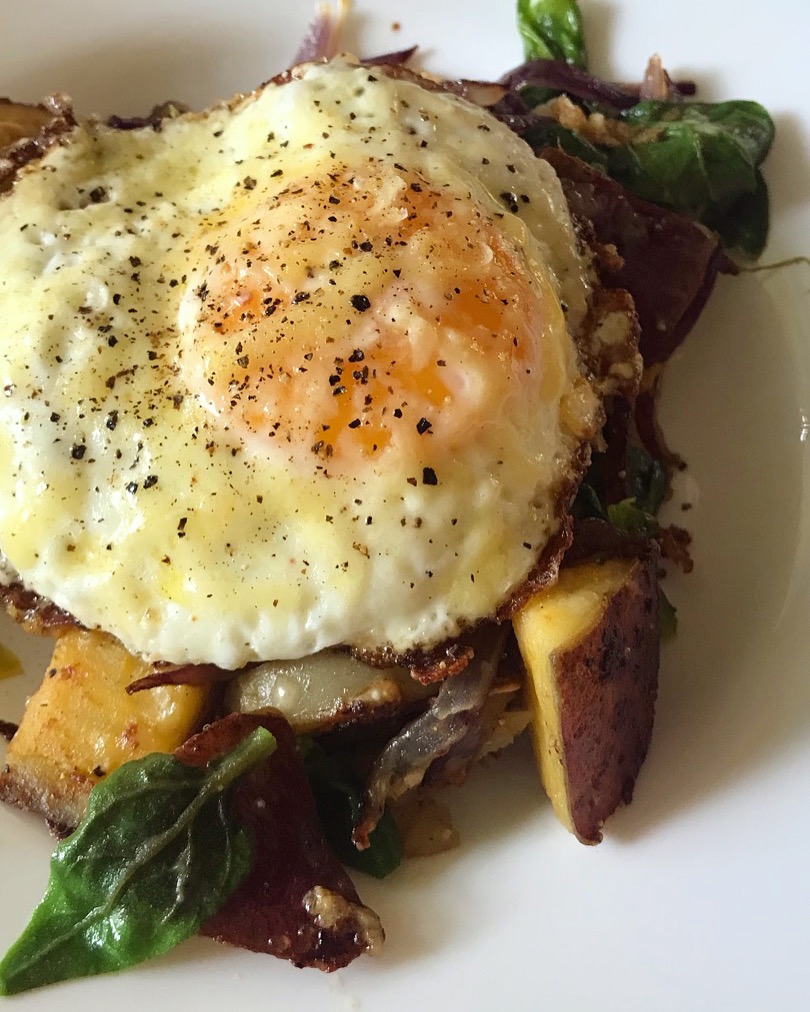 SWEET POTATO HASH WITH SUNNY EGGS
My faaavorite breakfast as of late.
Drizzle olive oil in a skillet and let it come to medium heat. In the meantime slice some onion or shallot.
Drop it in the pan along with a handful of your parboiled sweet potatoes. Stir briefly, spreading out your veggies so the potatoes have a chance to get browned.
Let cook for 5-6 minutes, stirring after a few minutes. Sprinkle with salt, pepper, and chili flakes if you'd like.
You can also add in spinach or kale here, after your allium and potato have cooked for a 5 min. Leafy greens cook the fastest so you can add them in toward the end and simply sauté for a couple minutes.
Transfer veggies to a plate, wipe your pan down quickly with a couple paper towels, and add in a little more olive oil or butter. Crack 1-2 eggs into the pan and cook for 4-5 minutes, until whites are set and yolks are runny. Sprinkle with salt and pepper and serve over your veggies.
---
QUINOA-CABBAGE FISH TACOS
A simple, quick dinner to make when you've lost track of time.

Add 1 tablespoon grass-fed butter to your skillet and let it come to medium heat. In the meantime chop some shallot and red cabbage.
Add to pan and sauté for 5 minutes, until wilted. Add your quinoa and stir. Sprinkle with salt, pepper, and a few dashes of your favorite hot sauce. We're going "buffalo sauce" here (butter + hot sauce).
Rinse your fish – choose something light and quick-cooking like sea bass or cod – and pat dry. Sprinkle with salt on both sides.
When done, transfer your quinoa and veggies to a plate. Briefly wipe your skillet down with a couple paper towels or a clean dish towel you'll throw in the wash.
Add a little olive oil to same pan and sear your fish for a few minutes on each side, until opaque.
When the fish is cooked place it on top of the quinoa-veggie mix.
Throw a couple of your favorite tortillas in the same skillet to warm them up.
Serve your quinoa and fish with the tortillas and whatever toppings you have on hand – avocado, more hot sauce, Cotija cheese, and/or sour cream.
---
THE BEST GRILLED CHICKEN SALAD
Sometimes being basic just tastes really, really good. This salad is one of those times.

Rinse and pat dry your chicken breast. Sprinkle with salt and your favorite seasonings, or you can even buy it pre-marinated from a good-quality butcher. Just make sure there's no funky oils or sugar in the marinade. If you have a delicious, high-quality salad dressing, you can even just do salt and pepper on the chicken.
Drizzle olive oil in a skillet and let it come to medium heat. Sear your chicken for a few minutes on each side, until it's cooked through – usually 10 min total but depends on thickness. Set it to the side and let it rest.
In a salad bowl toss arugula, thin-sliced red onion, avocado, and a handful of cooked quinoa and/or sweet potatoes. They can be room temp. A super quick way to get lots of delicious flavor is to use a high-quality bottled dressing. I've been loving Primal Kitchen's Ranch Dressing – sooo good.
Top your salad with your sliced grilled chicken.
Bam! Three easy meals using two prepped items.
I really love doing meal prep this way because it gives me tons of options and doesn't mean hours of prep on Sundays.
I rarely know what I'll want to eat until a couple hours before each meal, and I like the flexibility of eating out when I want to.
I never want to feel tied down by the food in my fridge, BUT, I always want to be able to make a quick meal, because sometimes hunger creeps up on me. You too? Try prepping just these two foods next week.
Which of these meals are you excited to try? Does focusing on these two items make meal prep seem more doable?
Share with me in the comments below – I love love love hearing from you.